HOW & WHAT

Flights, bookings and visa
Your international flight to Cappadocia, Nevsehir (distance 30 km to our house) or Kayseri (distance 60 km to our house) can be booked at ones own travel agency with Turkish Airlines (THY). This might mean a transfer in Istanbul, and you can make a pleasant overnight stop there. They have a connecting a airport shuttle service from the local airport to Cappadocia (see transfer). If you look on the website of Turkish Airlines you will see only the upper end of the price range, unless you leave three months from now: don't be shocked by the prices, they go little down in time.
You can obtain your visa online in advance.
Contact your Embassy for Turkish visa at border gates. Take care: The lowest prices are not available at travel agencies and airline companies until 3 months before departure date. Before that time prices are significantly higher. Especially the Turkish travel agencies have good promotional prices, but only three months before the proposed departure date. Also prices and schedules differ every season. During the off season period prices are cheaper. Internet information and charter bookings from Europe to Kayseri: Pegasus Airlines, Corendon, Onur Air, www.ticketturkije.com, www.komfly.com and wwb.wegolo.com. Be sure to fill in the dates as three months from now, otherwise you are unlikely to get the desired information. Check this website out for your cheapest flights and very clever bookings.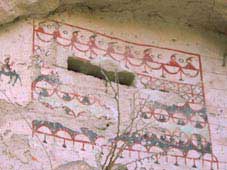 Transfer and taxi
Turkish Airlines offers an airport shuttle service by Argeus Tour operator to our Ibrahimpasa village. Costs are around Euro 10. Other airlines can reserve an airport transfer to our Ibrahimpasa village by sending an email to: Heritage Travel. You can also take a regular airport taxi to our residency, but that fee is higher then when you make the transfer reservation in advance. A good alternative is the bus to Göreme (see info 'come by bus') from where it is a short taxi ride to the residency. Self drive to/in Cappadocia
Having a rent–a–car at your disposal has advantages because of the vast area you are about to visit: 40.000 km². Most highlights can be visited in one holiday period.
Some internet flight companies also offer fly–drive, you should shop around.
If you decide to travel this way, the rental car will be waiting for you at the airport. Always double–check your reservation!
The Babayan Culture House can supply you with an online road map, tailored to the airport you arrive at. But good tourist roadmaps are available at bookstores. The roads are good and sometimes even very good: there are many petrol stations along the way (prices are the same as in Europe), and because of this only a few Turkish use the roads, they are almost empty.
Kayseri is 60 km from the house and is connected to Cappadocia by a brand new highway built by the Japanese. But the highway from Ankara is also good. Road restaurants can be found everywhere.

Also, you can take the bus to Cappadocia (Göreme) and rent a car for the days required.
You can make use of the service of a reliable and local rent–a–car company we work with, that brings the car to the residency and also picks it up again: the utmost freedom and service! Ask for the season rates and advantages. By bus to Cappadocia
Bus from Ankara: Takes 5 hours. After your visit of the capital go to the large bus terminal in Ankara (ASTI). And buy your ticket with bus agency 'Nevsehirliler' destination Nevsehir, Göreme or Ürgüp. The agency will give you the number of the lane the bus departs from. At the terminal building there is a small bazaar (market) and restaurants. Or buy your ticket online in advance 'Nevsehirliler' online bus reservation. The price of the ticket will be around 20 Euro p/p, and is fixed. From your destination there it is a short drive by taxi to the Babayan Culture House.

Bus from Kayseri: First a short transfer by the `Havas` airport service or taxi to the main bus station of Kayseri. There buy your ticket to Göreme or Ürgüp with bus company 'Nevsehirliler' or by 'Nevsehirliler' online bus reservation. This bus trip takes about one hour. From your end destination you can take a taxi to the Babayan Culture House. Weather and clothing.
Cappadocia has a land climate: short hot summers (+40) and cold winters (–10) with snow. Keep in mind that in the summer the evenings can be cool too. In spring and fall it can rain firmly, so if you like walking bring strong water tight boots and at least one pair of trousers to prevent you being hurt by the hard grasses of the steppe. Because our village is very traditional we always ask every guest to wear decent and covered clothing. If you have questions about this, please send us an email.
Ten day forecast for Cappadocia. Address:
Paul & Willemijn (our names are at the door),
Ibrahimpasa village No.161 (village and house number),
Ürgüp, 50390 Nevsehir (region),
Turkey.

To be able to talk everything over, this is the Turkish Culture House phone number: +90 (0)384 3626231. You can phone cheaply or for free with Skype: willemijnbouman.