ABOUT THE ART–ECO PLATFORM CAPPADOCIA
To all artists concerning the Cappadocian region!



The Art/Eco Platform Cappadocia is a growing cooperation between artists and organizations who concern unique and historical Cappadocia. By expressing themselves, visual artists, theatre makers and musicians, draw attention in a positive way to protect the vulnerable tufa stone environment from fast developing 'modern world' influences, such as lack of good wastewater and garbage solutions and the misuse of the environment of touristy developments.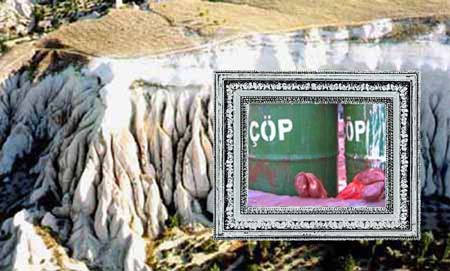 Cappadocia is a cultural and historical area, still peaceful and away from a hectic modern world and a World Heritage site of Unesco.
The presence of open air museums, beautiful landscapes filled with painted cave churches, pigeon houses and historical sites makes it well to study and to connect to. Breathtaking hand–carved architecture and 40.000 km2 of sculpturally shaped volcanic nature astonish the eye of everyone that enters. Cappadocia slowly starts to get open to the world –tourist area– with all kind of consequences for environmental infrastructure.
There are problems like open canalizations, very polluted valleys by free garbage dumping and the lack of drinking water. As it became a tourist area in short time, the modern use and supplies in this volcanic environment became clearly out of balance.
The river Kýzýlýrmak is the main water stream coming from the Black Sea going all the way South, passing through Cappadocia and following its way up North again. The river is therefore of huge importance for the Anatolian Heights. But there is little water streaming now, because several storage lakes were constructed. Wastewater is led into the river at many locations and since 2008 this river also provides the drinking water supply of Ankara...

In association with the NIHAnkara (Netherlands Institute for Higher Education and its documentary and research department) we are programming a project for Water Management in Cappadocia that was initiated with a congress in January 2008. The Art/Eco Platform Cappadocia was launched! The Platform will be part of the awareness of this Water Management project and aims for ecological solutions that fit into this vulnerable volcanic environment. The village Ibrahimpasa/Babayan will be the wetland pilot (unique in Turkey) for this water project and is therefore going to be the center of artistic activity and cultural exchange of ideas, because professional artists will give their artistic commends on these developments... The following theme was starting point for Art Projects in 2008 and 2009:



WATER! = BRIGHT? SU! = PIRILTI?


The Art/Eco Platform is the partnership of three art organizations/initiatives:
'HAYAL', creative workshops – Theatre and film workshops and performances in Cappadocia in spring/summer/fall. The projects are developed for amateurs and students of all countries to work together with local inhabitants.
Organization by HAYAL.
'KozaVisual', audio–visual research and documentation – An initiative formed by a group of social scientists and artists. The main goal of the initiative is providing cooperation and exchange of knowledge in order to enhance the application of audio–visual tools and resources.
Local documentary projects: July 6–8, 2007 Ibrahimpasa Village Field Study I & July 25–28 2007, Field Study II.
Take a look at A Lunar Landscape, a recent documentary by KozaVisual about the waste and wastewater problems in Cappadocia.
Organization by KozaVisual and NIHAnkara.
'Babayan Culture House', art residency – Art project development in Ibrahimpasa, Cappadocia. They invite professional artists and university fine arts–faculty students from Turkey and abroad, to work on three–months art projects directly inspired by the know–how and results from the Art/Eco Project and the exchange of ideas. Throughout the years and depending the results, art works can be shown and performed at several places, such as Culture and Art Centers (Nevsehir and Ankara), The Contemporary Art Festival Mustafapasa, NIHAnkara and Art Galleries in Turkey. Lectures and workshops will be organized.
Organization by Foundation Culture House Babayan.
The Art/Eco Platform co–operates with annual cultural and art Summer Festivals in Cappadocia:

– 'Contemporary Art Festival Mustafapasa'. Open to artists of all disciplines and levels, One can follow workshops and exhibit your art works in the Old Greek University, the Kybele House and surrounding valleys. Annually one week in the summer. Organization by the members of the FabrikArtGroup.
– 'Seten Cultural Center Göreme'. Organization by the cooperation of local art–supporting initiators and sponsors.
– 'Göreme traditional music/theatre & local cultures Festivals'. Organization by Göreme Municipality & Tourist Cooperative.

We ask artists to participate; and invite them to stay in the Babayan Culture House art residency by presenting an 'awareness by art' project, based on an ecological theme concerning the environment of Cappadocia. Go to the art–residency.
Already many artists participated with a project in 2008 and in 2009.
For now, the artists apply individual with their own budgeting, although the Art/Eco Platform is actively looking for funding and sponsorship possibilities.

Notice this article written in Turkish with photographs of the visit of the Dutch Art Institute with five Master students and their professors Florian Götkke and Rebecca Sakoen, to the governor of Nevsehir.
During this presentation the governor was questioned about the garbage and waste water problems in Ibrahimpasa. Also the students explained this presentation was initiated to result in an art project 2009 'Awareness by Art' Cappadocia – Water Re–sources.

Read about 'MAINSTREAM awareness by art' – Ten professional artists working in Turkey and The Netherlands found each other on common ground in their concern for the shortage of drinking water and good sewerage systems in the world with a focus on Istanbul and Cappadocia. They present themselves by a portfolio with art works on water.

Download the pdf–file (500 Kb – 9 pages) Art/Eco Platform Cappadocia Water Project 2008 with complete the information: aims, mission, strategy, objectives, impact, output, partners and sustainability. This document is of value when asking funding or sponsorship. All further project information about the Art/Eco Platform water project can be provided, so please ask for it.
For sponsors we have a special brochure.

Please join the Art/Eco Platform Cappadocia – member group to keep yourself up–dated! You need to login.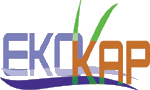 EKOKAP – Towards an alternative and sustainable solution for wastewater treatment in rural areas in Cappadocia: setting–up a constructed wetland in Ibrahimpasa. Realization in cooperation with NIHAnkara. A 50.000 Euro fund was given by Coca–Cola and UNDP to do research and to realize this project in 2008 and 2009.
Meetings and research have been started. Babayan Culture House residency artists responded with their art works to this EKOKAP project. The fund was unfortunately withdrawn for local administrational reasons. English pdf Türkçe pdf




The '1001Actions Anna Lindh Foundation' rewarded our Art/Eco Platform in March 2008 with the official label of '1001 Actions' and a project mentioning on their website. Reward Letter (pdf).