A painting, a statement.
A statement about the drinking- and wastewater situation in Cappadocia Turkey, where I live and work, which is out of balance.
The work has been exhibited in the 3d Contemporary Art Festival Mustafapasa 2008, as an awareness contribution to the theme WATER!=BRIGHT? SU!=PIRILTI?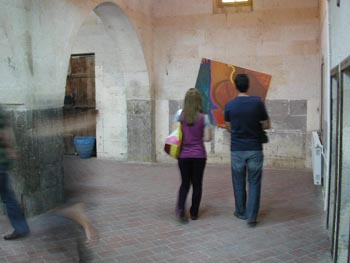 All the time visitors were trying to hang the painting straight...




'Message in a bottle' – (design) six panels
acrylic on canvas, 2008


A way to show that the global situation of water is critical.
Therefore the water in 'Message in a bottle' is leveled, but the paintings are hanging out of balance.
These works need a wall surface of 2.50m. - 13 m.








'Erciyes 2000' (on a rainy day)
six pannels, acrylic on canvas, 2 – 6 m




Read more about:
'MAINSTREAM – Awareness by Art'
Art/Eco Platform Cappadocia
Babayan Culture House art–residency